WHY IS BUNGALOW 8 THE BEST PLACE IN SYDNEY FOR YOUR NEXT FUNCTION?
Who doesn't love Bungalow 8's hard-to-beat, world famous location? Sit back, relax and take in Darling Harbour's sensational atmosphere and squillion dollar views while indulging in Bungalow 8's fab food and drinks. While you're there, imagine the memorable private functions you could host in Bungalow 8's waterfront function rooms!
Catering to functions of any size, Bungalow 8 is the place to celebrate that special birthday, momentous occasion, or hold your next work function. In this diverse function venue Sydney guests can let their hair down and party on – or they can ruminate while they absorb Darling Harbour's spectacular waterfront views – twinkling at night and sparkling during the day. In a prime position on King Street Wharf, Bungalow 8 is a step ahead of the other function rooms Sydney offers, boasting a vibrant atmosphere with a chilled-out, tropical vibe and flexible facilities.
This idyllic function venue is the place to take your most valued guests, offering a sensational menu and excellent beverages for a night – or day – your guests will remember.
HOW LARGE ARE BUNGALOW 8'S FUNCTION ROOMS?
Perhaps you're planning a sit-down lunch or dinner function or maybe a standing-only cocktails and canapés event. Bungalow 8 is the perfect place for small or large private functions. Its beachside vibe with tropical surrounds creates a sanctuary into which you can escape the hustle and bustle of city life. Take an intimate group of 20 to 50 for a special occasion, or for a grand-scale corporate event opt for an entire venue exclusive booking which includes the upstairs area called The Loft, in total providing for up to 1200 guests.
The ideal function rooms Sydney event planners choose have flexible spaces. Bungalow 8 has Terrace Sections available for 20 to 50 seated guests, or 150 standing only guests. The Side Terrace comfortably seats 50, and up to 80 guests can enjoy a cocktail-style soirée on the Side Terrace. If an intimate seated celebration to you means 80 bums on seats, opt for the Semi Private Dining area or keep 150 guests on their toes (well, on their feet at least) in the same space or in any of the Terrace sections. All event spaces at Bungalow 8 offer beautiful outlooks and a decadent vibe with a holiday feel for small or large groups.
Upstairs The Loft offers a stunning waterfront vista, incredible party food and standing capacity for between 50 and 450 guests. As the size of the venue is super important to the success of the event, The Loft offers a range of function venues including the Balcony (50), the Northern Terrace (100), the Terrace Lounge (80), and the Southern Terrace (160).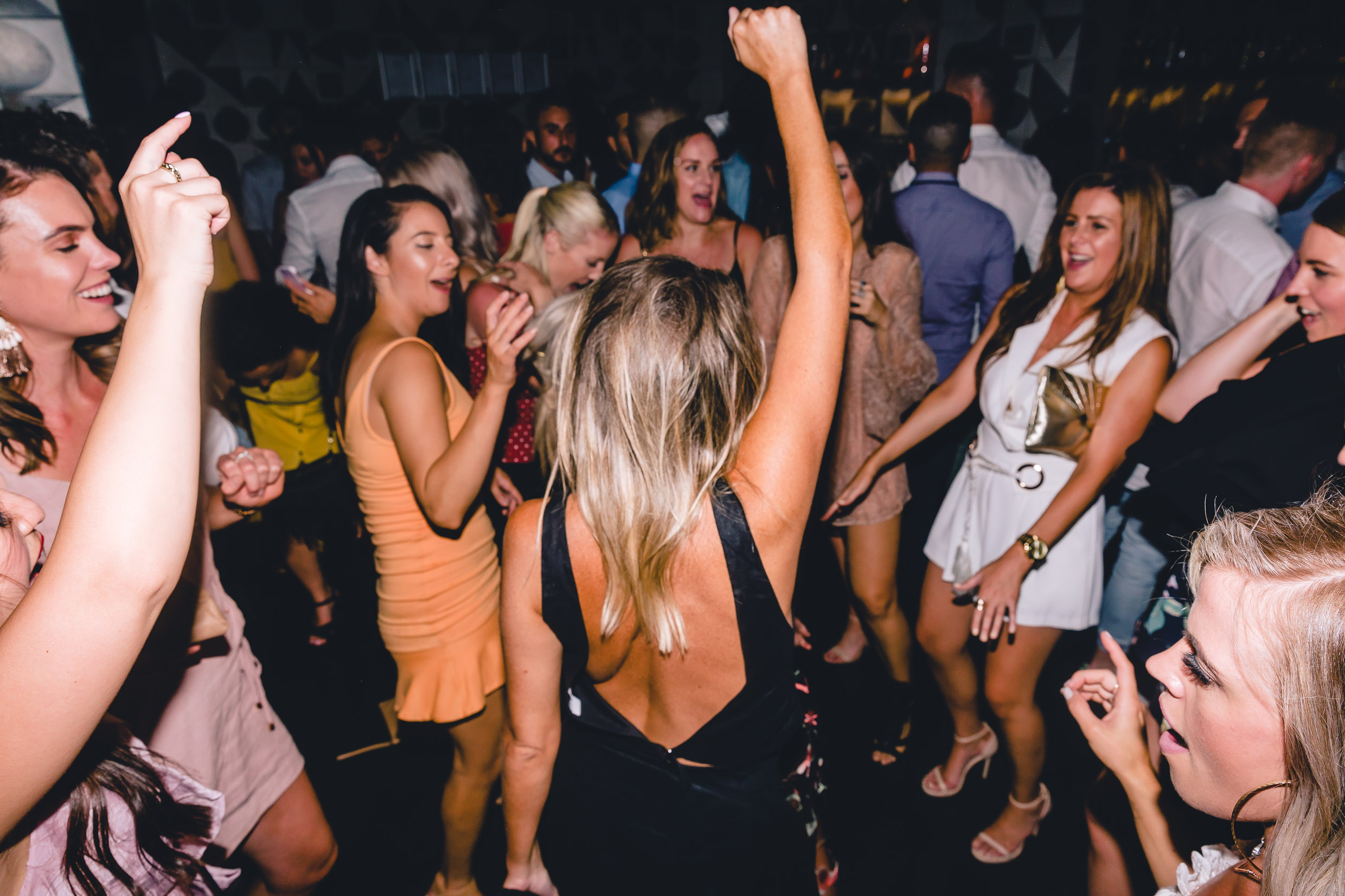 WHAT FOOD IS AVAILABLE FOR FUNCTIONS BUNGALOW 8?
Function rooms Sydney peeps love are in fabulous venues (tick!), with great drinks packages (tick!), and of course provide fantastic food! Your guests will rave about the excellent menus when you choose a Bungalow 8 waterfront function room for your private functions.
Flexible menu choices include delicious bites and more sustainable options from the Canapé Menu, the Grazing Stations menu or the Seated Menu. Packages are available, designed with irresistible morsels for stand-up or seated dining. Bungalow 8's chefs tempt your tastebuds with vegetarian, vegan, gluten free and dairy free menu items included.
In keeping with the environment, Bungalow 8's menus include seasonal seafood specialties such as freshly shucked oysters, salt and pepper calamari, smoked salmon, mussels, monk fish, prawns and more!
Be warned, the menu choices are all so tempting! Fabulous antipasto platters with many delicious options, mouth-watering banquet menus, sexy sliders and sweet-treat desserts will ensure your guests have a great time at your next function.
WHAT DRINKS ARE AVAILABLE FOR FUNCTIONS BUNGALOW 8?
Function venues need to have great drinks packages, and Bungalow 8's beverage options include fabulous wines, refreshing ales, tasty ciders and non-alcoholic thirst quenchers available as packaged deals for your private functions. Packages include standard, premium or deluxe options available for two, three, or four-hour periods and are priced accordingly.
WHERE IS BUNGALOW 8 LOCATED IN DARLING HARBOUR?
Function rooms in Sydney can't compete with Bungalow 8's world-class, breathtakingly beautiful location on Darling Harbour.
Location is so important when choosing function venues. Your guests can easily find Bungalow 8 located on Lime Street on the King Street Wharf at Darling Harbour. It is easy to get to with a myriad of transport options – simply walk from the city, or hop on a bus, train, or light rail. It's a bustling location offering plenty of taxi action, Uber drivers or you can even drive yourself. Because it's Darling Harbour of course Bungalow 8 is also easily accessed by water taxi or ferry.