WHAT MAKES BUNGALOW 8 THE BEST NIGHTCLUB ON DARLING HARBOUR?
Bungalow 8 is a sophisticated cocktail lounge and bar where style reigns supreme. After a recent makeover, Bungalow 8 is colourful, stylish and simply the best spot to while away a great evening with friends. Here you will find a killer combination of breathtaking waterfront views, unique drinking experiences, amazing live music and expert staff. And while the waterside district of Darling Harbour is a great spot to visit by day, it really comes into its own when the sun goes down. With a wonderful waterside terrace and great views across the harbour outside, and a great vibe and the best music inside, Bungalow 8 is the perfect venue for a night out in Darling Harbour.
WHERE IS BUNGALOW 8 LOCATED IN DARLING HARBOUR?
You can find Bungalow 8 in Lime Street, which forms part of the Kings Wharf development. Getting to Bungalow 8 is easy; you can make your way there by train, bus or light rail, or stroll to it from Sydney's central business district. And with so much water around, you can of course also arrive by water taxi, ferry or harbour cruise. Coming by car? Then you will find several secure car parks in and around Darling Harbour. Thanks to its great waterfront location, Bungalow 8 is an ideal venue to meet up with others, and you can choose from a host of amazing spaces both inside and out.
WHAT FOOD AND DRINKS DOES BUNGALOW 8 SERVE?
Bungalow 8 has a full food and drinks menu that is served daily between 12 noon and 9pm. Choose from all your favourite classic foods including burgers, pasta, mains including steak, seafood and much more, as well as starters, sides and desserts. Vegetarian, Vegan and Gluten Free meals are also on offer, and if you have any other special dietary requirements, the friendly team is only too pleased to help. After 9pm, you don't have to go hungry, a slightly more limited food offering is available throughout the evening and night-time too.
When it comes to drinks, you are sure to find exactly what you are looking for at Bungalow 8. With both classic and new cocktails, mocktails, a fantastic wine list, cold beers and ciders, a wide range of spirits and soft drinks, there is something for everyone at Bungalow 8. Keep an eye out for special promotions and the Monday to Friday happy hour too – find all the information on the what's on page of the website.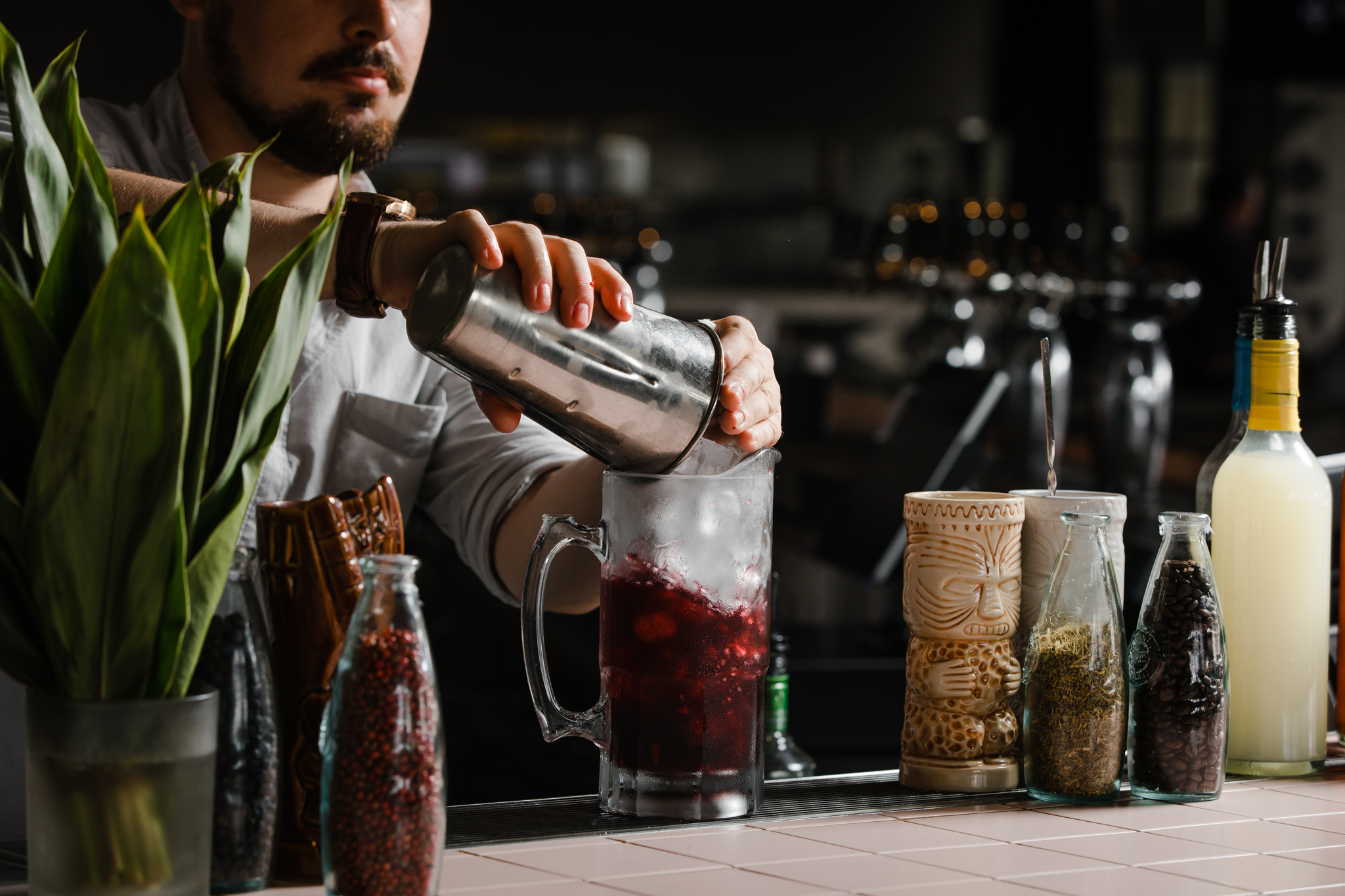 HOW LATE IS BUNGALOW 8 OPEN?
Bungalow 8 is open 7 days a week from 12 noon onwards. On Sundays through to Thursdays, Bungalow 8 remains open until late, but on Fridays and Saturdays opening hours are extended until 3am. With a full menu served between 12 noon and 9pm, it is a great choice for lunch as well as dinner, and when the party atmosphere starts later throughout the evening a limited menu is still on offer. Check out the website or get the app to make sure you are the first to know about special food and drink offers during the week or special events and guest DJs appearing at the club.
WHAT IS THE DRESS CODE FOR THE BUNGALOW 8 NIGHTCLUB?
The vibe at Bungalow 8 is relaxed and friendly, and the dress code is smart casual. In the evenings, when the venue turns into more of a club, most people dress up a little bit more. Runners, canvas shoes and thongs are not permitted in the evening. With regard to clothes, you can wear most things, but keep in mind that smart casual usually means no jeans, shorts or tees.
HOW CAN YOU CONTACT BUNGALOW 8?
To get more information on any of the above, reserve a table or book a function, simply send a message via the contact page or phone (02) 8322 2006 during opening hours (after 12 noon daily). The website will show you the current food and drinks menus, and also lists all the promotions and special events and offers on the what's on page. You can also download the app to stay up to date with offers or sign up for the newsletter.