Food In Darling Harbour

What is the best place to get food in Darling Harbour?
Darling Harbour food options are diverse and plentiful, but if you want to enjoy expertly-prepared, contemporary food in a location boasting a lively atmosphere with relaxing tropical surrounds, it has to be eaten at Bungalow 8 on the beautiful King Street Wharf.
What better place to enjoy an exciting modern menu with a few inventive tweaks to your favourite classic dishes along with fabulous culinary creations, sumptuous share plates, fresh salads, succulent seafood and can't-say-no desserts, than at Bungalow 8?
Supremely located on King Street Wharf, Bungalow 8 is one of the best restaurants in Sydney, providing both a tantalising food and beverages menu in a world-class, hard-to-beat location. Just a short walk or ride from the CBD has you feeling as though you are worlds away, indulging in a mouth-watering meal within this idyllic location popular with locals and tourists alike.
What types of food can you get at Bungalow 8?
Whether you're on the prowl for a substantial bite to eat or just something light with your drink, Bungalow 8 caters to all appetites – large and small. Health conscious diners will find lots of inspiring meal options along with gluten free, dairy free, vegetarian and vegan tasty treats.
The share plates provide diverse choices to tempt everyone's palate and Bungalow 8 salads are inspiring, enticing and altogether delish! The mains menu presents a dilemma because they ALL sound yum!
We do love healthy food full of fresh flavours at Bungalow 8, but you will also find a couple of irresistible dessert items on the menu to keep your sweet tooth happy.
What foods are great for sharing?
The perfect food to share with those you care about in this world-famous waterfront location is – of course - freshly shucked oysters in a lime cured apple salsa. Accompanied by a crisp white wine, a light ale or a fresh cocktail, this has to be the ultimate sharing plate indulgence.
If oysters don't tempt your tastebuds Bungalow 8's sharing menu offers everybody's favourites made with inspired twists, and seasonal produce such as yummy grilled chorizo accompanied by fried garbanzos and a chili romesco sauce. The must-have spiced barbeque chicken wings need no introduction while the Japanese style corndogs with kewpie mayo just need to keep on coming! Succulent share plates also include lovely lamb meatballs, prawn toast and Bungalow 8's special house-made hummus.
Have you noticed how much better food tastes when it is shared? Bungalow 8 have, which is why we have a great sharing menu and a dining ambience which is simply good for the souls of all your favourite party-peeps.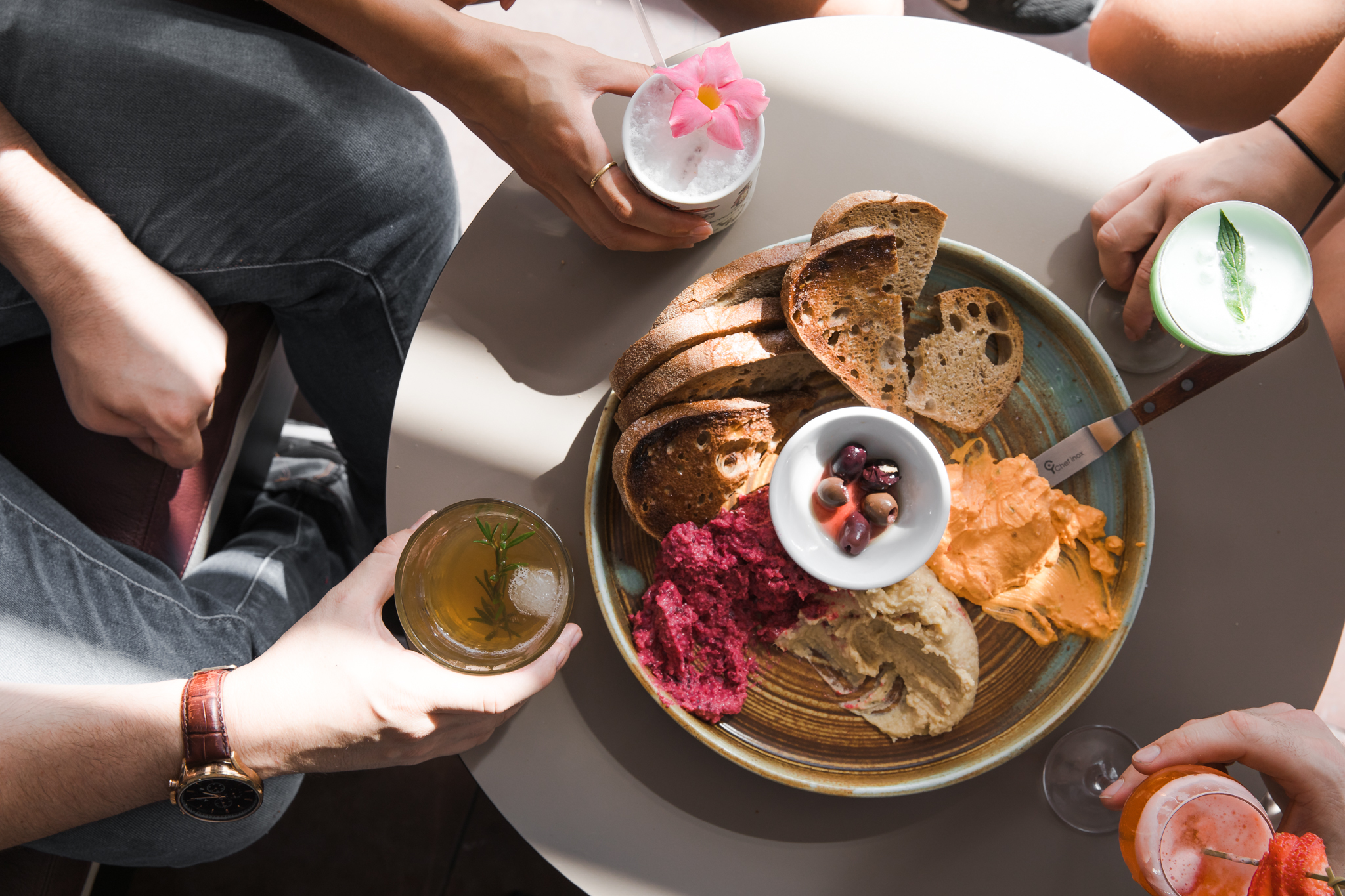 Does Bungalow 8 offer late-night food?
Bungalow 8 prepare their tasty meals from 12pm right through until 9:30pm, so if you like to dine early or late you're in good hands. Feeling peckish after 9:30pm? There is a short menu on offer up until 10:00pm while the delicious house made dips and grilled breads are available all hours until closing.
Can you get food delivered from Bungalow 8?
We don't want you to miss out on the entire dining experience at Bungalow 8, so we love you to come in and enjoy our food and beverages within our beautiful, tropical surrounds with outstanding views – it's all part of the enjoyment!
So no, we don't have a delivery option because why stay home when you can come to Bungalow 8?
What is on the drinks menu at Bungalow 8?
A fantastic food menu must be accompanied by an equally impressive beverages list. Bungalow 8's exceptional local and international wines, cold beers on tap, and fresh, tropical-inspired cocktails - flow all night long. Happy Hour between 4pm and 7pm Monday to Friday is the perfect time indulge in a range of $6 drink specials!
Where is Bungalow 8 located in Darling Harbour?
Looking for the best restaurant in Darling Harbour? Bungalow 8 is easy to find on Lime Street at King Street Wharf. Whatever your preferred mode of transport you can take it to Bungalow 8. It's an easy walk or cycle from the city, or you can take a bus, train, or light rail. In this busy location there are always plenty of taxis and Ubers are a dime a dozen. Of course our beautiful restaurant in Darling Harbour can also be accessed by water taxi or ferry.